string(18) "Infectious Disease"
Latest Infectious Disease News
posted October 12th
by modernClinician Editorial Team
The general population, in particular pregnant women and those planning a pregnancy, is becoming increasingly concerned about the possibility of the Zika virus spreading northward into the United States. Many […]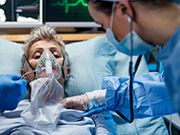 posted March 30th
by modernClinician Editorial Team
Sharing mechanical ventilators should not be attempted during the coronavirus disease 2019 pandemic, according to a joint statement published March 26 by the American Society of Anesthesiologists, Society of Critical Care Medicine, American Association for Respiratory Care, Anesthesia Patient Safety Foundation, American Association of Critical‐Care Nurses, and American College of Chest Physicians.
posted March 24th
by modernClinician Editorial Team
In a statement published online March 19 by the Infectious Diseases Society of America, recommendations are presented for public health and health care professionals to prioritize coronavirus disease 2019 testing.
posted March 23rd
by modernClinician Editorial Team
Americans' understanding of safety measures to protect themselves from COVID-19 is increasing, according to an ongoing survey conducted by researchers at the Center for Economic and Social Research at the University of Southern California Dornsife College of Letters, Arts and Sciences and the Leonard D. Schaeffer Center for Health Policy and Economics.
posted March 20th
by modernClinician Editorial Team
The number of cases in an Escherichia coli outbreak linked to clover sprouts has reached 39 in six states, the U.S. Centers for Disease Control and Prevention said Thursday.