string(8) "Pharmacy"
posted March 24th
by modernClinician Editorial Team
In a statement published online March 19 by the Infectious Diseases Society of America, recommendations are presented for public health and health care professionals to prioritize coronavirus disease 2019 testing.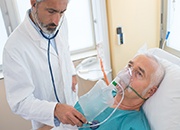 posted March 18th
by modernClinician Editorial Team
There may not be enough ventilators in the United States to cope with the number of novel coronavirus patients who will require them due to pneumonia and other serious respiratory problems, experts say.
posted March 17th
by modernClinician Editorial Team
Medicare is expanding coverage for telemedicine nationwide so that millions of American seniors can get health care at home and avoid the coronavirus, officials said Tuesday.
posted March 13th
by modernClinician Editorial Team
President Donald Trump on Friday took a step many political and health care experts have long been urging him to do, declaring the U.S. coronavirus crisis a national emergency.